Factory-direct dropshipping is a method that manufacturers or wholesaler send the products directly to the consumers. It is widely used by e-commerce business starters because of its low budget and energy-saving. But with the business growth, a lot online business owners turn to a third-party logistics service provider (3PL) for help. Why adding another link? Here is the comparison between NextSmartShip order fulfillment service and factory-direct dropshipping.
First, let's take a look at what will NextSmartShip do after the goods delivered to its warehouse.
– Inspection: unbox the goods, inspect the quality, ship the no pass products back to the factory and record the inspection result.
– Print and stick SKU bar-codes: print SKU bar-code stickers according to the form provided by customer, put them on every unit and make a double check
– Make inventory: scan the products into NextSmartShip inventory management system
– Order sync: eCommerce business owners can one-click sync orders from their online stores to order fulfillment system with multiple platform integration
– Pick and pack: includes the following 3 processes
Labeling: print and put custom labels on each products
Custom packaging and more: pack the ordered products with custom boxes, bags or other packages to ensure the products are good-looking and safe during shipping
Kitting and assembly: put multiple products in one package, or add catalogs, leaflets, thank you letters, gifts, etc.
– Ship out the products: ship the packages to global consumers with the most suitable shipping methods, ensuring fast and low cost. The tracking number will be sent to the consumers email once the package is shipped out.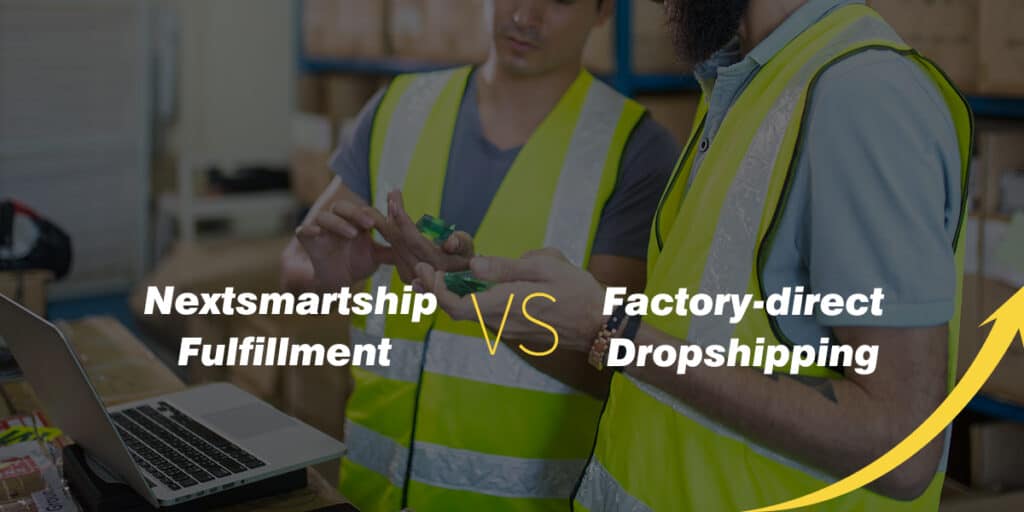 Although it sounds complicated, the whole process generally happens within 24 hours in NextSmartShip warehouse. How to choose between dropshipping and 3PL order fulfillment? After reading the following pros and cons, start-ups, crowdfunding campaign runners and e-commerce owners may be able to make a better decision.
Factory-direct dropshipping.
Pros
Low budget and low risk. No need to pay for the inventory or warehousing fee, the e-commerce business owners only need to pay the handling and shipping fees for the products they already sold. This advantage is especially important for start-ups with the small or unstable order quantity.
Hassle-free. No need to worry about picking, packing and shipping, the dropshipping service provider will handle these processes, they normally have logistic teams who pick and pack, they also cooperate with multiple shipping couriers to get discounted shipping prices.
Cons
Uncontrollable. Since the dropshipping service provider takes care of everything, you will not be able to control any of the process, which will be a real headache when your stores get a lot of orders in a short time. When something like shipping delay or shipping damage happens, neither the consumer nor you can solve the problem on time.
High error rates. Although factory-direct dropshipping is cost-effective, sometimes the e-commerce business owners find that they have to pay for dissatisfied customers. The manufacturer normally pay more attention to getting more orders instead of providing professional order fulfillment. Sometimes they pack the wrong color, size or even wrong products in the package.
Complex shipping. Shipping becomes very complex if an e-commerce business use dropshipping and has more than one supplier. If a customer buys multiple products from different suppliers, he or she will receive multiple packages, and the store owner has to pay freight for each of them.
No after-sale. When the dropshipping suppliers screw up packing or shipping, consumers complain to the store owner, not the supplier. Because of the large number of customer complains, Facebook recently decided to disable all the ad accounts of the business using dropshipping. As can be seen from this incident, dropshipping business is generally considered unreliable and unprofessional.
NextSmartShip 3PL order fulfillment.
Pros
Fully controllable. It's NextSmartShip customers who take control of the whole order fulfillment process, including inventory management, package tracking, return processing, etc. With NextSmartShip order fulfillment system, online store owners can monitor the inventory and shipping status in the real time, it returns the tracking number for each shipped package, you can deal with the problem on time if something went wrong.
Easy return processing. If you own a clothing or accessory e-commerce business, high rate of return and exchange is a problem you have to face. Return and exchange experience will definitely affect consumers' purchase decisions. NextSmartShip has multiple warehouses in US and Europe, if a buyer is not happy with the product, he or she can send the product to the warehouse nearby, fast and affordable. The inventory will be updated on time as well, no impact on resale at all.
Better consumer satisfaction. Consumers need accurate packing and fast shipping, they will not be happy if they receive products in the wrong color, or get their Christmas gift in January. The goal of NextSmartShip is to delight the end-consumers, no matter how complicated the fulfillment requirement is, how picky the consumers are, NextSmartShip will have the job well done.
More shipping solutions. Third-party fulfillment providers can make more flexible shipping solutions for the store owners, because global shipping is what they do, they have more experiences than the suppliers. NextSmartShip cooperates with world-leading shipping couriers including DHL, FedEx, RoyalMail,SF Express, etc., allows the customer to choose the best solution according to the budget, speed requirement, season, product type, destination, etc. Ecommerce business owners can choose a basic solution and expand it when the business grows.
Can be just as affordable as dropshipping. 3PL order fulfillment is not necessarily expensive, it can be as affordable as dropshipping. With the 90 days free storage and affordable shipping, NextSmartShip customers will find it being a good China order fulfillment center for start-ups.
Cons
Have to keep some stock. Ecommerce business owners need to pay for some stock if they give up dropshipping, but in order to reduce risk, the number can be very small.
Need to plan ahead of time. Making plans are very important for a business, especially small ecommerce business which can not afford to make mistakes. It is a good idea to consider the order fulfillment part when making marketing plans, it will be the A (achievable) in SMART principle. For example, if you want to make more profits during the holiday season, after making marketing plans, you can consider to send inquiries to multiple order fulfillment service providers, get their solutions and rates, make a list, and take full control of the total budget and customer experience.
Get Custom Solutions