What is a fulfilment centre?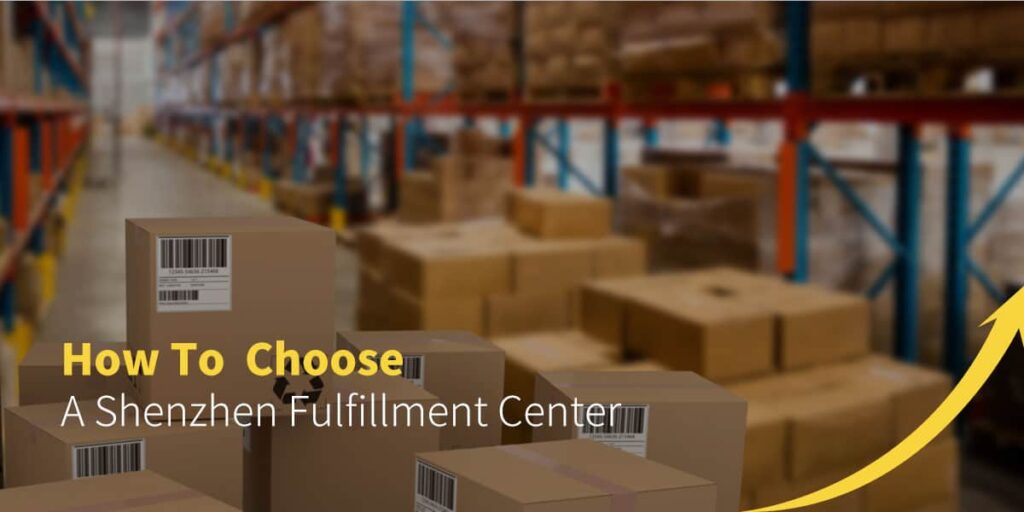 They are modern packing warehouses used by third-party providers to fulfil orders that come from e-commerce retailers.
In China, the Shenzhen fulfilment center is by far the best place to do your logistic operations because it's the manufacturing hub of China.
Shenzhen is the headquarters of tech giants like Huawei, with 90% of the world electronics coming from there.
If you are thinking of getting a fulfilment centre in China, Shenzhen should be the first location to choose.
Today, we cover how to choose a Shenzhen fulfillment center from the thousands in the country.
Let's get started.
Ecommerce fulfilment for online shoppers has evolved in terms of speed of delivery and convenience.
Online buyers want packages delivered to them within the shortest time. Also, they want to know every minute where their package is in the shipping journey before it gets to them.
98.1% of shoppers say that delivery speed impacts their brand loyalty, while more than 51% say they want real-time visibility of their package as it's shipped.
Also, the cost of shipping products to customers is a defining factor in the buyer's buying decision, with 57% of shoppers saying they cancel orders if the shipping cost is too high.
You can reduce cart abandonment due to extended shipping time by selecting the right third-party fulfilment partner in Shenzhen to fulfil your orders fast and at an affordable price.
For you to choose a fulfillment center in Shenzhen, there are several factors to consider;
Integration with e-commerce fulfilment
Technology has simplified processes. Whether Shopify, BigCommerce, Squarespace power your online store.
You sell on marketplaces like Amazon, eBay, or Walmart; you need a Shenzhen fulfilment center that seamlessly integrates with platforms without any coding.
You don't want any complicated setup that will eat into your time that you would otherwise spend on growing your business.
Answer these questions before integrating your e-commerce store with a fulfilment partner;
Can you auto-sync your store orders and track fulfilllment status?
Will your customers receive updates and tracking numbers when their packages are ready to ship?
Do they have multiple fulfilment options you can choose from or customize?
Are you able to take control of your shipping snd fulfilment costs?
Management of inventory
A fulfilment center with a state-of-the-art inventory management system will reduce the time it takes to process orders.
In e-commerce, delivery speed is now critical, and any second wasted in the warehouse preparing orders for shipment can cost your online store massive sales.
You want an inventory management system that is 99.9% accurate, transparent, user-friendly and affordable storage costs.
Here is the step-by-step process of a fulfilment center that meets these standards;
Item-receiving – When your products get received from the supplier or manufacturer, the staff inspect each product, count them to confirm if the quantity is as stated.
Make Inventory – Each product with SKU is then scanned, and you can see the inventory on your store in real-time.
Put on shelves – The scanned products gets put on shelves are barcodes are scanned and put in the Warehouse Management System (WMS).
Safe & Centralized storage – Warehouses with security systems and insurance to safeguard your valuable goods.
Sold-out prompt – When an order is made, you can see the product SKU being subtracted from your online store. If the stock runs out, the account manager can prompt for replenishment.
3. Management of orders
The speed at which the fulfilment center responds when an order is made is critical to your online store's success.
The ultimate guide to ordering management and processing for the right Shenzhen fulfilment center must have the following;
Receiving process – When packages come from your suppliers, you want a fulfilment center that double-checks your products and handle delicate packages with care.
Pick & Packing process – Depending on how you want your products packed, you may need custom packaging. Choose a warehousing center that can offer these services.
Tracking & Shipping process – When the package is ready for shipping, you want your customers to be able to track their orders. You may also want to see tracking numbers from your dashboard.
An excellent fulfilment center in China has all these processes automated to improve efficiency and ensure that your store's orders get fulfilled 24/7 as they roll in.
4. Handling returns
30% of all products bought online are returned 92% of consumers say they can repurchase the products if returns are easy.
This means for every three orders made from your online store, one is likely to be returned. However, this highly depends on the types of products you sell.
You want a fulfilment partner with a return process, and if not, they can replace an ordered product for the customers fast, and you let them keep the one they want to return for free.
5. Global presence
Most Shenzhen fulfilment centers have warehouses in significant continents like the U.S, Europe, and Australia.
A fulfilment center in China with a global presence gives you an edge in the last mile challenge because they can ship part of your inventory to the nearest warehouse in your country and fulfilment from there.
Also, their partnership with delivery companies gives you a competitive advantage over your competition in shipping costs. You can even do free shipping, which makes 79% of online shoppers in the U.S alone more like to do shopping.
Get a Shenzhen fulfilment center.
There are hundreds, if not thousands, of fulfilment centers in Shenzhen. To decide which fulfilment partner you want to work with, consider the above five key factors.
Finally, get in touch with some warehousing & fulfilment companies that have built trust with merchants to determine if they are the best fit for your online store.
Get Custom Solutions